Supporting Healthcare in Africa

Dodoma Tanzania Health Development is a 501(c)3 non-profit supporting the work of Dodoma Christian Medical Center (DCMC) in Central Tanzania. DCMC was launched in 2003 with a focus on community health in rural villages. Today, it is a thriving medical center providing a high standard of service by professional Tanzanian medical and dental staff in a safe, clean environment.
In a region with rapid population growth, widespread poverty and lack of infrastructure, access to healthcare is difficult. Demand for DCMC's modern, high quality care draws nearly 100,000 patients a year.
Make Your Impact Today!

Your generosity – of any amount – is helping thousands of women, children and families receive the care they need and deserve.
Everyone who seeks care at DCMC is treated, regardless of ability to pay.
The medical center treats nearly 100,000 patients per year, at an average cost of only $31 per patient.
Nearly 50% of all births are C-sections because it is the facility of choice for women with high-risk pregnancies.
The pediatrician, one of only a few in the region, often sees 50-60 children each day.
An average of 5 surgical procedures are performed each day, the most common being hernia and appendectomy.
Tooth extractions are the most common procedure at the Dental Clinic because of poor oral health in the country.
Patients benefit from DCMC's reliable stock of medications, which is uncommon elsewhere.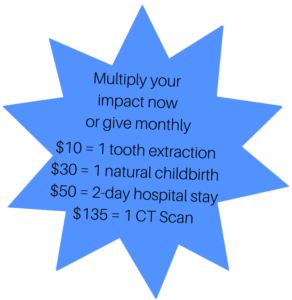 Online

Via Mail
Please send your contribution to:
Dodoma Tanzania Health Development
8085 Wayzata Blvd, Suite 103
Minneapolis, MN 55426
Follow us to see the impact of your gifts!